September 27, 2023 12:00 pm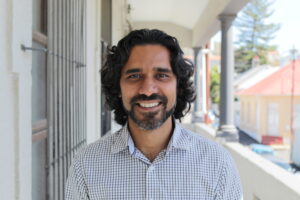 In this talk, Aditya Kumar will draw on his personal experiences in post-disaster reconstruction in rural villages in India, complex urban development in the US, people-centred reconstruction in post-war Palestinian refugee camps in Lebanon, and in shaping pro-poor urban policies in post apartheid South Africa. By interlacing these seemingly disparate, extreme and provocative experiences, he will shed light on the failure of the state, large international agencies and more generally, the private property market system. This failure to address land rights and adequate housing has polarized many cities across those that own private property, and those that are landless and homeless.  Amidst this visible tension, he will draw on everyday struggles for land and housing forced by social movements and community networks that are forcing a new reality in urban areas across the world. Ultimately, through these experiences, he will illustrate some of the empirical practices and tactics of co-production, negotiation, resistance and protest in developing policies for just and equal cities.
Speaker Bio:
Aditya Kumar, currently a Loeb Fellow at Harvard University, is a trained architect and seasoned land and housing activist. His activism ranges from political and community organizing to development facilitation, housing policies, and post disaster and conflict reconstruction. Over the last twenty years, Adi has been a vocal advocate for land justice and translating policy into implementation.
He has been in leadership positions in prominent civil society organizations and international organizations across the globe. His experiences have traversed managing a large charity-driven earthquake reconstruction project in India and spearheading post war reconstruction for a UN agency in Lebanon. Adi has worked alongside various spheres of government entities and private sector advocating for structural changes in land & housing policies and programmes.
Event details:
12:00-12:30: Lunch provided (registration required). Please register here.
12:30-1:30: Lecture
Location: Louis A. Simpson International Building, Room B60
Event co-sponsors: